Sep 2017
The 2018 Traverse Gets Bigger, Bolder, Better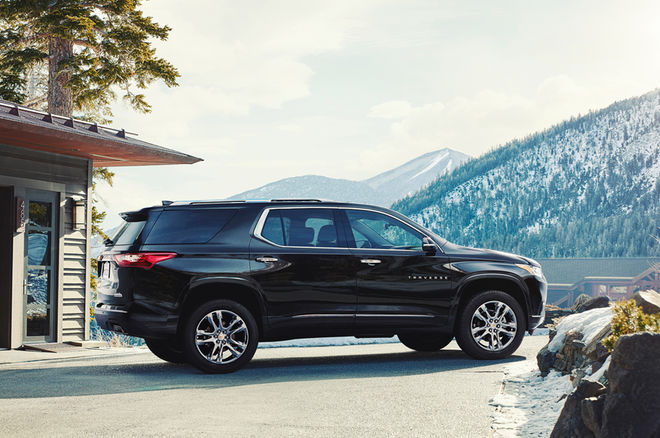 With the SUV segment exploding in popularity, manufacturers are making sure to keep their product offerings diverse. Chevrolet has done this by making some big changes to the Traverse in order to help it stand alone in what it offers. And although the Traverse has been Chevy's second-best-selling SUV, it was due for some updates. The 2018 Traverse gives us a look at Chevy's first full redesign of this model since its initial release in 2009.
Inside and Out
The Traverse has taken on the role of stepping in as Chevrolet's pseudo minivan offering. But don't get me wrong, there isn't anything minivan-ish about the look of this vehicle. The soft lines and sloping roof of the outgoing model have been replaced with a strong, rigid front end and more of a flat SUV style roof, lending a powerful look to the crossover. Chevy's LED daytime running lights flank the slightly hooded headlights for that aggressive look we've grown accustomed to seeing on new-model Chevy's.
The wheelbase was extended by two inches, resulting in increased interior passenger volume, which the Traverse was leading the class in even before this redesign. The increase in passenger space did result in less cargo capacity, but the Traverse still offers more than some of its major competitors.
Powerhouse
The standard 3.6L V6 is paired with a new 9-speed transmission that is incredibly smooth and responsive. With 310hp and 266 lb. feet of torque, the 2018 Traverse can hold its own on the open road. It also has a towing capacity of up to 5,000 pounds, so feel free to bring the camper along for your next road trip.
There's also an RS model that comes with a 2.0L turbo that delivers 255hp and 295 lb.-feet of torque (20/23 MPG). Although it's labeled as the Rally Sport and is equipped with racing tuned suspension, it produces less horsepower than the standard V6. It does have more torque, so that should help during low RPM, but it will be interesting to see how it performs and if it truly lives up the RS badge and black trim stylings that give it the look of a performance vehicle.
Efficiency
Chevy was able to trim some weight while making the vehicle bigger, an unexpected but appreciated concept. The lighter weight, paired with the new transmission and intelligent start/stop technology increased the MPG ratings from 15/22 to an impressive 18/27 for the FWD model. Ratings come in at 17/25 for all-wheel-drive versions.
Tech and Convenience
Some of the major focuses of this redesign were on enhancing the technology and convenience features. Options such as keyless entry, heated mirrors, steering wheel controls, and tri-zone climate control are standard on all trim levels. Chevy was also out to treat all three rows equally, making sure that each row has access to their own USB charging ports. They also offer a unique feature called Smart Slide® that makes the days of awkwardly climbing over the second row a thing of the past. This feature enables the rear passenger seat to slide and tilt forward, opening a large passageway for access to the third row. It's even functional if an empty car seat occupies that second-row seat.

Another cool feature is a rear camera mirror feature turns your entire rearview mirror into a video screen that displays a wider, non-obstructed view of the area behind the vehicle. However, this feature is only available on higher trim levels. And the foot-activated rear hatch ensures that no matter how full your hands are, you can easily access the trunk.
Safety
Teen Driver is standard on all trim levels. This feature allows the vehicle to coach young drivers as they're behind the wheel by setting speed alerts, volume limits, and providing a driver report card. All trim levels also come standard with backup camera (mirror camera for LT and up).
The Traverse also includes another standard safety feature that's becoming a necessary for three-row people movers, rear seat reminder. This feature is activated when a rear door is opened and closed just before you depart on your journey. Then once you reach the destination, the vehicle reminds you to check the rear seat via chimes and a message on the dash.
However, features such as lane-keeping assist with lane departure warning, automatic braking with pedestrian detection, IntelliBeam® auto-dimming high-beams, and forward collision alert are only available on the Premier and High Country trim levels.
The 2018 Traverse looks poised to carry on the model's history of being a strong seller for Chevrolet. We're hoping that down the line more of the advanced safety features are standard, or even just available, at lower trim levels. But initial reviews have been strongly positive and the improvements over the outgoing model are quite obvious and appreciated.