Nov 2018
EMKAY Named as a Top 5 Most Awarded at 2018 Best in Biz Awards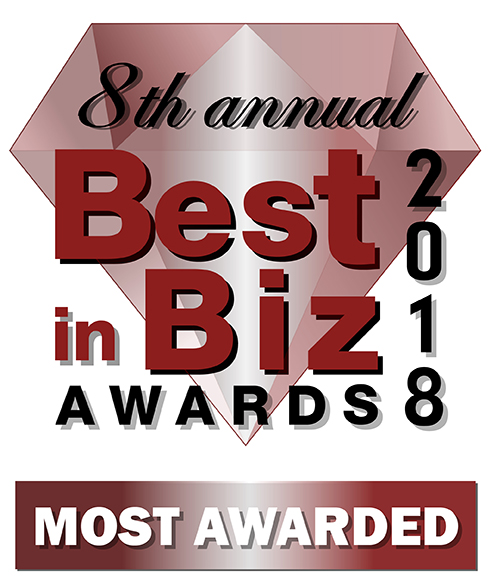 The winners of the 2018 Best in Biz Awards were just announced, and for the 2nd consecutive year EMKAY is one of the Top 5 Most Awarded Companies! This is the 8th annual Best in Biz Awards competition, the only independent business awards program judged each year by prominent editors and reporters from top-tier publications in North America. With over 700 entries for the 2018 competition, it's an incredible honor to be named one of the most awarded.
The EMKAY team puts in a lot of work to make wining these awards possible. We're very proud of these accomplishments and will continue to foster innovation in all aspects of our operations.
Details on the categories in which we won are as follows:


Gold in Most Innovative Service of the Year
EMKAY's SafeRoads Service was recognized as the Most Innovative Service of the year. SafeRoads delivers high-level driver tracking capabilities without the need for a full-on telematics program. The system utilizes drivers' phones in order to monitor their driving for risky behaviors such as distracted phone use, harsh acceleration, speeding, and hard braking. SafeRoads keeps a running score for each individual based on their behaviors, which fleet managers can then review via the EMKAY website.


Silver in Technology Department of the Year
Our IT department has been quite busy. Our team recently revamped the entire layout and functionality of our Fleet Dashboard in order to provide clients with advanced analytic capabilities in an easy-to-use format. In addition to this huge project, they also helped to build EMKAY's SafeRoads program and completed many other mobile app enhancements.


Silver in Blog of the Year
The EMKAY blog covers an array of topics that can range from serious matters such as distracted driving, to more lighthearted ones like new digital license plates. Managing a corporate fleet can be quite the undertaking, so finding some levity throughout the day helps to relieve some stress. While the posts do tend to focus on automotive and fleet related topics, there are still plenty of posts that are beneficial to the everyday reader.
A link to the full list of 2018 winners is below:
About the Best in Biz Awards
Since 2011, winners in Best in Biz Awards have been determined based on scoring from independent judging panels deliberately composed each year of prominent editors and reporters from some of the most respected newspapers, TV outlets, and business, consumer, technology and trade publications in North America. Structured in this unique way, Best in Biz Awards is able to best leverage its distinguished judges' unparalleled expertise, experience and objectivity to determine award winners from among the hundreds of entries. The 2018 judging panel included, among others, writers from Associated Press, Barron's, Consumer Affairs, eWeek, Forbes, Healthcare Innovation News, Inc., Investment Advisor Magazine, MediaPost, New York Post, New York Times, Ottawa Citizen and Wired.